This is Lucy. She came into our lives almost two years ago at a time that I wasn't especially interested in adding a second dog. We are already the proud caretakers of a 100 pound lab, Manny. He is wonderful, loving, and a little gross! Our hearts were full and we had a nice balance.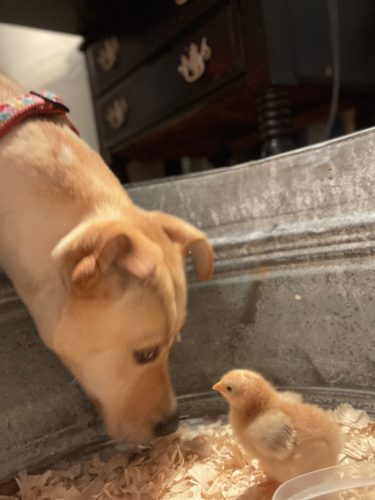 Somehow (Divine intervention) I found myself at Worcester County Animal Control and SOMEHOW (Divine intervention) found myself at home introducing Lucy to the rest of our animal family. I swear, I have no clear explanation of how she ended up in my car running laps across the backseat! She was excited to be free and seemingly WILD! All I could think was, "What have I done?" And "Why?"
The first couple of weeks were an adjustment to say the least! She was unsure of her new surroundings, but immediately in love with my children and Manny!
It took no time for her to fill a void I didn't even know we had. She has been the companion and sounding board we have all needed from time to time. She is my daughter's best friend, my son's constant comic relief, and Manny's favorite mud running partner. She is also the best mother to baby chicks any dog could ever hope to be!!
We set out to enrich her life and we were truly enriched! It has been said by many with similar experiences, who rescued whom? She has given us all the love we have given her ten fold. I am thankful every day that the Lord didn't give me a chance to think it over. I would have missed out on so much!!
Let's hear it for the rescue dogs and pound puppies!! They are diamonds in the rough and one of life's greatest gifts!